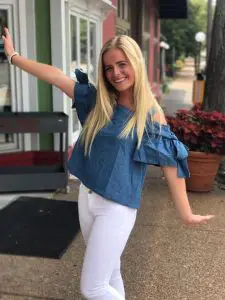 The man accused of killing Ole Miss student Ally Kostial in 2019 will plead guilty in her death on Friday.
Brandon Theesfeld, who was arrested just days after Kostial's body was found shot multiple times in the woods, is set to plead guilty to first degree murder charges in Oxford, officials said.
The hearing is set to take place at the Lafayette County Courthouse at 10 a.m. Friday. Theesfeld is represented by attorney Tony Farese.
"We have a plea negotiated that we've accepted where the charge of capital murder is reduced to first degree murder, which calls for mandatory life sentence," Farese said. "The state has worked very hard in this matter, and we've reached an agreement that the victim's family found acceptable."
Farese said he expects that Theesefeld will make a statement in court.
Ally Kostial, 21, was said to have been with Theesfeld at a fishing camp called Buford's Ridge on the night she died. A deputy found her body riddled with bullets the next day.
Kostial and Theesfeld were said by their friends to be romantically linked.
Darkhorse Press will be present in the courtroom on Friday.