A woman was caught on camera by Jackson animal shelter, CARA, dumping a dog outside of the building.
It appears that she tried to tie the dog up, and when he got loose from her tie, she ignored him, got back into her vehicle, and sped away.
The poor dog chased her for a while then gave up and ran circles before disappearing into the woods.
Shelter workers watched the disturbing surveillance video and immediately went out looking for the terrified pup. What this woman did was illegal.
They set a trap out in the woods with food to lure the dog in.
After a few days, they saw their trap worked!
The dog, who the shelter decided to name "Manny" was safely inside.
"Welcome to CARA, Manny. You are beautiful, you are worthy of love and loyalty, and your life matters. For the next few weeks, we will shower you with love to prove that, and work on building your confidence back. Your name means God is with us. He was certainly with you, and more than that, He will always be with you. Hang with us sweet boy, those eyes will be sparkling in no time. She didn't deserve you, and you certainly deserve so much more. Our promise to you is that you will get the life and love that you deserve. Bank on that. "
The pup is only about a year and a half old and CARA staff said he has the sweetest personality.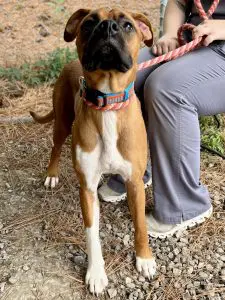 He is timid of new people, but that's only because of the life he endured before he was dumped. Clearly, people have not been kind to him.
A family who has fostered and adopted multiple dogs from CARA has offered to keep Manny in their home and show him what love looks like.
He will head up to a rescue in Maine in a few weeks to embark on his new, and wonderful life.
Manny will never know what it means to be abandoned again. He will never have someone dump him in a scary place and speed away, because they didn't want to deal with him.
He will only know love and kindness going forward.
According to their website, CARA (Community Animal Rescue & Adoption) is a 501(c)(3) nonprofit organization operated by volunteers, board members, and part-time shelter employees. They are supported by private donations from individuals, businesses, and fundraising efforts. The shelter receives no funds from the city, county, state, or federal government.