Austin Elliott was a financial specialist and a graduate of Ole Miss.
He loved sports, and was an accomplished athlete in high school, playing select and amateur leagues in soccer and basketball. He loved music, and believed it could free your soul.
He really loved people, and they loved him back.
Elliott was one of six people who died of fentanyl-related overdoses in Madison County in February 2021.
Elliott's case was as tragic as any, but from an investigative perspective, it was a little bit different. There were still pills at the scene, and his family quickly consented to allow a search of his phone. A friend who was also involved in buying the pills, which were supposed to be percocet, also contributed to the investigation. Police were able to put together a buy from the dealer who had sold the pills to Elliott, and then they had their case in hand.
A jury convicted Carlos Dominique Allen of Jackson of Sale of Fentanyl, Trafficking in Fentanyl, Possession of Hydrocodone, and Possession of Amphetamine in February 2021. He was sentenced Monday. The courtroom was silent as Allen was given a 20 year sentence for Count 1, 80 years for Count 2, 12 years for Count 3, and 12 years for Count 4.
Allen is a habitual offender, with three prior convictions. Judge Dewey Arthur said he had seen no effort on Allen's part to take any responsibility in the case. The pills were manufactured to look like legitimate medications, the judge said. He then brought up how Allen talked about his family, but then there were texts in which Allen sold drugs to a young mother as she was on her way to her son's baseball game.
"You knew these pills killed, and you sold them anyway," Arthur said.
Arthur told the court that Counts 1 and 2 will be served consecutively, with 3 and 4 being served concurrently.
A century to serve.
District Attorney John K. "Bubba" Bramlett elaborated that in Allen's phone, investigators found texts that Allen knew that people had been "flopping" — or dying — as a result of the fentanyl laced pills. But, the texts said, he chose to sell them anyway, knowing the risks.
"We have to send a message that you can't sell death in Madison County," Arthur said.
"That's why you see the tough sentence. This is bad stuff, we need your help. Fentanyl does not forgive," said Bramlett. "One pill can kill. When someone takes a pill laced with fentanyl, they're playing Russian roulette with their life. It's that simple."
Bramlett said it's unclear if the other five overdoses from that February were linked to the same batch of pills.
Allen said in his sentencing that Elliott was a friend of his as well.
"I want to send my condolences to his family as well," he said. "My prayers are with them regardless of what it may look like."
The most common form of fentanyl-laced pills in the Madison area is a blue pill that is known as an "M-30" because has an "M" on one side and a "30" on the other. It's usually presented as percocet. But, officials said, fentanyl comes in many forms, including powder, liquid, and white pills as well. The counterfeit pills look identical to medications like hydrocodone, oxycodone, or Xanax but are often laced with fentanyl, which is 100 times more potent than morphine. Upon consumption, unsuspecting victims are immediately at risk of overdose and death.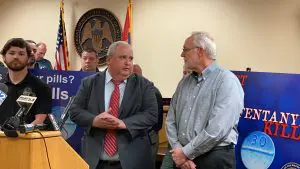 "That's why so many of these victims are innocent," Bramlett said. "They think they're getting one thing and they're getting another."
Bramlett cited a study that said outside of prescription drugs obtained at a pharmacy, there is an up to 40% chance that pills may have fentanyl in them. The sheer number of pills being sold on the street makes buying illegal drugs incredibly dangerous, he said.
"When they bought off (Allen), there were 151 other pills laced with Fentanyl in his car. Madison Police Department that day saved a lot of lives," Bramlett said. "One of those pills was taken and we had a death, and 151 were not taken, plus the 10 we bought."
Shortly after that, Madison County Sheriff's Department confiscated another 100 pills.
There were around 100,000 overdose deaths last year — more than deaths caused by suicide or car wrecks. And 70 percent of those were because of fentanyl.
Bramlett pointed out the officers that fight the war on drugs every day.
"These guys are heroes," he said. "These guys who are out here on the front lines fighting this stuff. This is such a dangerous drug. Thank y'all for everything you do."