On Wednesday, November 30th, the 12th Circuit Court Narcotics Enforcement Team completed an investigation in reference to information received from citizens about possible illegal drug activity at a house in the Dixie Community of Forrest County.
During the conduct of the investigation of the identified home, officers determined that there were illegal substances in the home and illegal drug transactions were happening in the presence of children.
As a result of the investigation, four suspects were placed under arrest.
The 12th NET Team and the FCSO would like to thank the public for their part in reporting possible illegal activity that resulted in these arrests.
In this instance, the public's information was received, evaluated, and investigated and when combined with other intelligence, ultimately acted on to place four subjects behind bars.
We encourage anyone to contact us in the event you believe illegal activity is occurring, especially if it involves crimes where children are affected or involved.
The following individuals were arrested and transported to the Forrest County Regional Jail.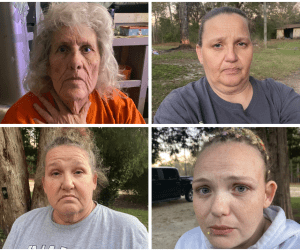 Linda Powell – Possession of Controlled Substance (PCS) – Methamphetamine, 1-2 grams, Felony Child Endangerment
Annie Pulliam – Felony Child Endangerment
Aundra McDaniel – Felony Child Endangerment
Tori McDaniel – PCS Methamphetamine, 1-2grams, Felony Child Endangerment