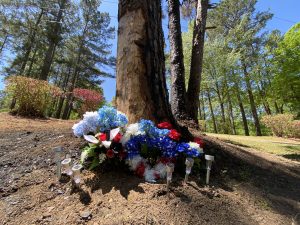 The smell of gasoline fumes still hangs in the air where Jefferson Davis County Deputy Pat Barnes' cruiser hit the tree on Saturday night as he responded to help another agency on a call.
His absence hangs in the air too, thicker than the gasoline, both so strong that you choke on it.
In the ashes and debris surrounding that tree, charred a dark black high into the sky, were recognizable pieces of glass, plastic, and bark — proof that will live in the world long after the grass has grown back that the deputy so known for his fairness and honesty was there for a second. And then he was gone.
Barnes was known to his friends as a good guy. He had been with the Jefferson Davis County Sheriff's Office for around 5 years. At age 49, his friends still talk about his high school football career. He and Sheriff Ron Strickland still had a rivalry going on more than 30 years later.
"He and I grew up together," Strickland said. "Ever since elementary we played ball together at Prentiss High School. We just had a lot of memories. I would just say things like 'You want me to put this rod down on you like I did when you were the fullback and I was the defensive end?'"
Johnny Hinton also went to school and played ball with the fallen deputy.
"He was just an all-around good guy, he went to church and everything," Hinton said. "He was just Pat. He was an everyday guy."
Tony Bridges knew Barnes to say hello to him, and said that in a small county like Jeff Davis, Barnes' reputation was well known.
"One thing about it, he didn't have favorites. If you were wrong, you were wrong," Bridges said. "He treated everybody the same."
He did his job well and honorably, Hinton and Bridges said, but it was the little things he did that were outside what he was asked to do that will be his legacy. Just last week, Bridges had a family member who had a wreck and Barnes worked the scene.
"Being a police officer, he could flag traffic and make sure, but he helped us put the vehicle on that trailer, and that's the way he was. If he could help you, he'd help you," he said. "We tried to give him something but he wouldn't even take it."
It was Saturday night when Barnes took a call to assist Prentiss Police Department with a reported fight at the Western Motel in Prentiss. That stretch of Highway 42 is long and straight, and his path is marked by the tire tracks that cut the grass on the shoulder, as well as the blaring orange spray paint used by Highway Patrol to reconstruct the scene. It looks as if he left the road and ramped part of a driveway that sent him airborne, and the car careened to its final resting place.
There's a growing pile of flowers and wreaths there, as well as some solar lights to mark that spot at night. And about 15 feet on the other side of the driveway, a small angel statue stands guard over some blue and white flowers and an orange arrow.
"He was a great guy. I just feel saddened that we know we're hurt losing him like that," said Strickland. "It's hard on us but we're trying to deal with it, just praying to God to keep us strong.
We'll never be the same, because I will always miss him."
Barnes' funeral plans are being made. Strickland says when they're complete, the Sheriff's Department will post them on their Facebook page, where he announced his friend's passing on Sunday morning.
Barnes leaves behind a wife, two daughters, and a grandchild.