There are so many sweet pups waiting on their forever home in shelters all across Mississippi.
With zero spay and neuter laws in the state, shelters are overrun with dogs being surrendered or dogs thrown away once they get sick or have an issue that a family doesn't want to deal with.
The stories can be heartbreaking. We want to help in some way. Each week, we will feature a bio n a dog that needs a home in our wonderful state!
Here is our first beautiful Darkhorse Dog who is searching for his forever home: Arthur.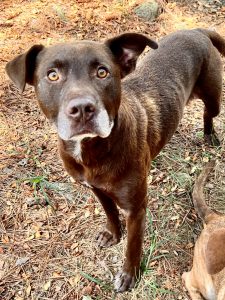 Arthur came to CARA with a very sad story, but despite this, Arthur holds no grudges against any humans. Isn't it amazing how dogs show unconditional love? This is something most humans certainly cannot do.
Arthur is a lover. He loves with all of his heart and trusts his family at CARA (Community Animal Rescue) to keep him safe.
"We promised him at 'hello' that we would keep him safe, get his health back as best we could, and show him the love that his past didn't afford him."
Arthur's Background:
Arthur is 6-7 years old. He was rescued by a woman who found him running at a large burned-out property. In an effort to keep his story short, his previous owner did find him with us and attempted to get him back. However, Arthur was emaciated, weak enough that he could barely stand, and pulled one of the strongest positive Heartworm tests we have ever seen. The owner's words were that this precious boy that we had already fallen in love with was 'born on the ground and would die on the ground, on his chain'. And no, he had never had any vetting.
Clearly, the previous owner didn't deserve Arthur. He wasn't getting a dog back that he neglected to this extent.
2 months later:
The incredible and handsome Arthur is now waiting at CARA for his forever family to find him. The shelter managed to get some weight on him, and help him get his strength back.
The shelter was heart broken when they learned that Arthur is in congestive heart failure, and he is no candidate for heartworm treatment because of the neglect of the man who had him changed up all of his life.
Valerie Hicks, CARA director said:
"We had such high hopes for him, so many plans, so much to give him. But instead, we now must look for a hospice foster. And yes, we know those very special humans are few and far between, but we don't give up at CARA. Arthur deserves the best of the best, and we want him to experience his best life for the time he has remaining. If ever a dog deserved this, he would be the one."
Arthur has no idea his time is limited. He adores every human he meets. He has been great with other dogs.
This precious boy takes nothing for granted, and is so incredibly grateful for every pet, every kind word, every meal. He doesn't like being left outside in his play yard alone, likely because he's afraid he'll be left to his own devices again.
Arthur thoroughly enjoys outside time with the CARA staff. He loves the air conditioning, and loves being inside. He's not destructive, he's such a good boy.
Arthur is on meds for the duration of his life. Meds that the shelter will supply, as well as all vetting.
The duration of Arthur's life could be 6 months, it could be a year. The shelter is desperately trying to find Arthur's person so he can experience a family's love before he dies. After the horrible life he endured, he deserves that in the very least.
But what we also know is that he deserves so much more, and we know the perfect human to offer him his best life is out there, somewhere. We just have to find that person(s).
If you have a heart huge enough to offer a boy like Arthur a safe and comfortable home, with the love that literally makes his world go round, please contact the shelter at cara@carams.org.
If the shelter can't find that special someone, they will continue to give him his best days. Every, single one of the CARA staff is deeply in love with Arthur.
Valerie, the shelter director said:
"The minute you meet him, you know he's that dog. That dog that will steal your heart instantly, and make you jump through fire to protect him and give him what he's never known. But again, we know there is someone with a real home that could give him more than we can. If that someone is you, please reach out to us."