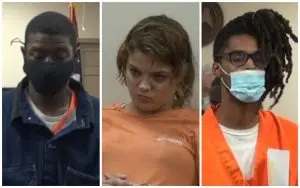 As if the case of the disappearance and subsequent killing of April Jones and Will Polk wasn't already twisted enough, Thursday afternoon brought bombshells all around.
According to Chief Deputy Peter Clinton, suspects Keith "K2" Coleman Jr. and Jayme Lyn Tubbs have confessed to police about their roles in the deaths of Polk and Jones, and their stories matched up. There are other witnesses who have given statements which also track with the stories Coleman and Tubbs told. They are both charged with two counts of murder, two counts of conspiracy to commit murder, and two counts of desecration of a corpse.
Dezimond "Cutthroat" Green, who was charged with two counts of murder and two counts of conspiracy to commit murder, has not confessed and has retained a lawyer, Clinton said.
But the stranger part of the story comes in the initial stories told by the first two suspects arrested.
Early on: Haley Pierce arrested, charged with two counts of murder
Second arrest: Dale Gann charged in death of Will Polk and April Jones
Haley Pierce, at first charged with two counts of murder in the case of a missing Quitman County couple, is now walking free. The two murder charges have been dropped. Her boyfriend Dale Gann, who was also charged with both murders, will soon also have those charges dropped. It's very simple, in a very complicated way, said Clinton.
They lied.
When Pierce and Gann were arrested, they knew things only the killer and law enforcement would know, Clinton said, down to the clothing the victims were wearing and other personal details.
But when Coleman, the alleged mastermind in the slaying of the couple, was interviewed, he said Gann and Pierce had nothing to do with it. Tubbs, who was allegedly right alongside Coleman as the conspiracy and the homicides unfolded, confirmed it: Pierce and Gann were not in on it.
Alleged evidence: Haley Pierce's attorney talks details in court
"She named elements of the crime we knew were factual and she said she was there," Clinton said. "We arrested her based on all that information because there were known facts nobody would know but law enforcement and those who committed the crime."
But she couldn't answer basic questions about where they were killed or where the bodies were, Clinton said.
Pierce is now charged with hindering the prosecution, which is a felony. Clinton said Gann will also be re-charged for hindering the prosecution.
Clinton said Pierce was re-interviewed after Coleman and Tubbs gave their statements. She admitted to lying in a sworn statement, he said. She said in a statement to police that Coleman had given her enough information to confess to the crime and then threatened her and told her to take the rap.
"Coleman's story matched some other people who were there. Out of all that, we can exclude Haley Pierce from participating," Clinton said. "Coleman gave them enough elements of the crime to give to us to make us look somewhere else and not at him."
Coleman, Tubbs, and Green in court: 'Evil walks among us'
Clinton said both Pierce and Gann, being loyal to the Simon City Royals street gang, were willing to take the murder rap to establish what's known as 'street cred,' or respect on the streets and in prison, for having allegedly killed two people.
Pierce is out on bond for the charge of hindering the prosecution.
Coleman, Tubbs, and Green face their next court hearing on June 24.