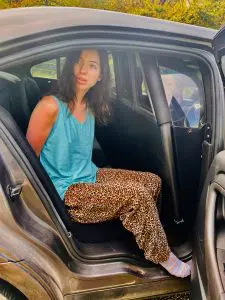 Denise Frazier wrote on her TikTok that the only dog she had been with in a Biblical sense is "yo boy."
But on Wednesday, the Jones County Sheriff's Department released that the 19-year-old from the Myrick Community had been arrested on a charge of Unnatural Intercourse and a charge of Aggravated Cruelty (Animal).
JCSD had received a complaint from a concerned resident regarding a graphic video posted to a social media channel which showed unnatural sexual intercourse between a human female and a male dog. Sheriff Joe Berlin said an investigation led to a search warrant for a home on Norton Road and an arrest warrant being issued for Denise Frazier.
"In my 17 years in law enforcement, this is one of the most disturbing cases that I've ever investigated," said JCSD Sergeant JD Carter who is leading the investigation. "JCSD is in possession of several videos that are so graphic that we are not at liberty to release them or even discuss the particular content. The investigation into this case is far from over."
A local rescue advocate posted photos of a large adult German Shepherd named Gunther and an Australian mix puppy named Luke saying that they were rescued from the situation.
"The German shepherd was featured in numerous videos the woman posted online," wrote Murray Windham (photos below). "Gunther … has undergone unimaginable trauma and will need time to recover. He will eventually be available for adoption. These two dogs were involved in a horrendous situation."
Another Golden Lab-type dog appears in Frazier's TikToks as well, including one where she dances provocatively, gesturing to the dog, and then twerks in its face as it lay on the bed. There are no details on what happened to that dog.
"I am saddened to think that there were likely so many other animals with this person. My heart hurts for all of them. Animals are in need of advocates who will speak for them and protect them," Windham posted. "Please, if you care about animals, stand up for them. Do not allow them to suffer at the hands of evil human beings."
Denise Frazier is currently incarcerated in the Jones County Adult Detention Facility pending her initial appearance in Jones County Justice Court on Thursday at 1:00pm.