A pot-bellied pig named Alexander Hamilton (Hammy for short) came to a sanctuary in Columbus, Mississippi when he was surrendered by his owner.
He was completely blind due to his fat ("fat-blind"). That means that he had so much fat over and under his eyes that he couldn't see at all.
The sanctuary is called Porkchop's Phat Farm. The same owners that started and run Shaw Pit Bull Rescue also decided to start this sanctuary for pot-bellied pigs.
Hammy's owner surrendered him due to having to move out of state to care for a family member. They drove three hours to bring him to the Phat Farm. When Hammy arrived at the Sanctuary, he was HUGE.
The sanctuary workers said when Hammy arrived, he sauntered out of the trailer, walked into the barn, and refused to leave the barn for six months.
He was mourning and grieving the loss of his family. The sanctuary said they knew that pigs grieved, but they didn't realize they grieved so fiercely.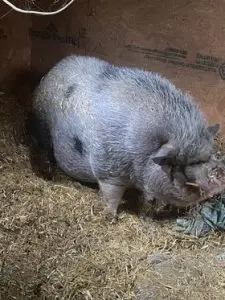 When the sanctuary saw how sad Hammy was from being moved from his original family, they made the decision not to adopt out any of their pigs. They decided that Porkchop's Phat Farm would be their forever home.
After six long months of grieving, and refusing to leave the barn, one day Hammy decided to venture out a little farther. Then the next day…he explored a little further.
He now happily roams the entire sanctuary and has lost over 100 pounds.
Background information on Porkchop's Phat Farm:
After starting Shaw Pitbull Rescue, the owners said they noticed an increasing need for fosters or rescues of pot-bellied pigs. Their website says that approximately 90% of sold pet pigs end up beings surrendered to shelters and sanctuaries. This is often due to uneducated or unprepared owners.
The mission of Porkchop's Phat Farm is:
"Our goal is to provide a safe haven for abandoned or unwanted pot belly pigs and provide them with the medical attention they need, as well as the love and attention they deserve. We will participate in fundraising to provide veterinary treatment, spay/neuter, food and shelter; as well as foster responsible pot belly pig ownership through education and adoption."
The pot-bellied pig sanctuary, Porkchop's Phat Farm, sits on the opposite end of the land that Shaw Pitbull Rescue sits on.
The website states that Porkchop's Phat Farm is a sister rescue to Shaw PBR; however, they are two separate entities; two separate accounts. Any donations to Shaw PBR will be used for the dogs, and any donations to PCPF will be used for the piggies. You can visit "Where is the Money Going" on our Shaw PBR website; or "Money Matters"  to see what monies are coming in or going out of either rescue.
To donate to Porkchop's Phat Farm, so they can continue loving on and saving these beautiful animals, CLICK HERE!